Need help understanding the difference between Oil, Watercolor, and Acrylic paints?
If you have the perfect photo picked out and you're ready to start your Paintru order, your first question is probably - which medium should I pick? You are not alone!
Choosing a medium for your artwork is actually very straightforward - when in doubt, we recommend customers select oil as the medium because it allows our artists to best capture the small details that make your photo a special memory. Since oil paints take longer to dry than watercolor or acrylic, we are able to send you a copy of the painting to review and make edits while the paint is still wet to ensure your painting turns out exactly how you'd like it to look. We call this our Wet Painting Revision process.
Tip: When in doubt, go with oil!
Prefer a longer answer? Keep reading to learn about the history and best use of Oil, Watercolor, and Acrylic paints - feel free to click below to jump to that section.
Table of Contents
1. Oil Paints
History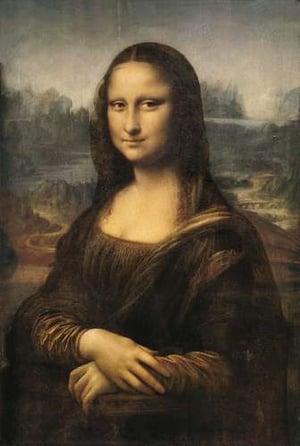 The first recorded instance of oil paintings occurred between the 5th and 10th Centuries AD in Afghanistan for Buddhist paintings but was not more widely adopted until the Italian Renaissance in the 15th century. During the Renaissance, oil painting was used extensively to capture the zeitgeist of the time, and oil paintings are among the most widely known and influential art forms on the planet. Since the conclusion of the Renaissance, oil paint has become the most commonly used medium for painting as it lends itself to a wide array of subject matter and enables an artist to accurately capture small details.
When selecting a medium for his famous Mona Lisa, Leonardo da Vinci chose to use oil paints, which enabled him to capture our attention and awe for centuries to come.
Look & Feel
Oil paints are applied atop the canvas by your artist to capture your photo's beautiful details. As the oils dry, the color lightens slightly, so you can the first draft of your artwork to appear slightly darker and shinier than you may have anticipated. If you choose oil as your preferred medium, We will select an artist who is an expert in this medium - they will select colors that will dry to achieve the perfect look for your artwork!
When you unwrap a Paintru painting, you'll see the individual brushstrokes that the artist used as they hand-painted your favorite image. You can expect oil paintings to have brushstroke texture which adds a layer of complexity and quality that is impossible to replicate with a cheap print. Many of our customers are drawn to oil as a medium because of these brushstrokes - seeing them up close is an indication of the years of training and practice that your artist took to perfect their craft. This subtle texture results in a museum-quality work of art that will instantly add class and sophistication to any wall.
Best for: Any painting in which you'd like a high degree of accuracy. Landscapes, solo, wedding, pet, couple, and family portraits all come out beautifully in oil and it remains our most popular option. If you have questions about your painting, you can feel free to contact your Paintru Concierge who will work with you to create the perfect painting.
2. Watercolor Paints
History
Watercolor painting is the oldest form of painting. Since the definition of watercolor painting is somewhat broad – the act of suspending pigment in water and using it to create art – even early paleolithic paintings qualify as watercolor! Over the centuries, watercolor painting has improved and evolved into its current form. Watercolor painting remains a beautiful option for paintings that require a lower level of detail while creating a light and playful feel.
Look
Watercolors are characterized by their brightness and add a splash of color to any room. When used with bright subject matter, watercolors add a carefree and open feel that is more casual than an oil painting. A series of watercolor paintings in similar color palette is the perfect finishing touch for a baby's nursery, a powder room, or a living room with full, natural light.
Feel
Watercolor paints absorb directly into the paper on which it is applied. Accordingly, you can expect watercolor paintings to have less texture than an oil painting - you will still see the brushstrokes used to apply the paints but it will be less raised off of the canvas. You can use watercolor paintings in two ways – to accentuate a neutral color palette in your room of choice by subtly adding imagery to an otherwise bland room, or by being bold and adding a pop of color to the wall. To start, look at your space and consider whether you'd prefer the wall color to dominate. If you'd prefer the wall color to dominate, consider picking a similar color palette for your Paintru artwork. Conversely, if you'd prefer your watercolor painting be a focal point of the room, consider which contrasting colors would create a striking counterbalance by picking contrasts from the opposite side of the color wheel. If you need help, always feel free to contact our Paintru Concierge!
Best for: Creating a subtle theme for a room; melting into the background of the room by picking a similar color palette or accentuating existing color palettes by adding a pop of color.
3. Acrylic Paints
History
Acrylic paints are a recent invention, coming into vogue during the 20th century. Because of their chemical composition, acrylic paints dry faster and retain their original coloring for decades. Moreover, acrylic paints allow us to add texture above and beyond what we'd be able to achieve with oil paints. Acrylic paints do not blend into one another as with oil paints, so artists rely on layering to achieve clean lines. This can be very useful if your desired outcome is a painting with a contemporary feel as acrylics allow us to have sharp lines between different colors without blending.
Look
Since acrylic paints dry very quickly, an acrylic painting will often have layers of paint atop one another, which can create a layer of texture that stands out. Significant color contrast with sharp lines between the different colors is possible with acrylic paint.
Feel
Acrylic paintings are characterized by their sharp lines and layers of paint. Acrylic paints have more texture and weight than watercolor or oil paints.
Best for: Contemporary works. Typically we would only recommend an acrylic medium for a contemporary piece that relies on layering. If you're thinking about using Acrylic paint, we recommend that you reach out to our Paintru Concierge to confirm that it's a good choice.
4. Other Mediums
We're often asked if we can complete artwork in Charcoal or another style of artwork. The quick answer is - of course! We do have charcoal artists, but we typically recommend a black and white oil painting as charcoal can sometimes smear in shipping. As always, let us know if you have questions about your artwork or would like to speak with a Paintru Concierge!